Mrs. Merker goes to Washington
By Daniel Herron
ScoringSystem, Inc C.E.O, Brunhilde Merker, was named Honorary State Chairman to the National Republican Congressional Committee's Business Advisory Council.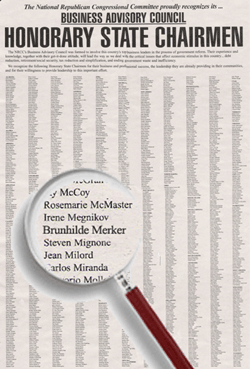 The NRCC's Business Advisory Council was formed to involve the country's top business leaders in the process of government reform.
Brunhilde Merker was selected for this honor because of her business and professional success, the leadership she has provided in the community, and for her willingness to provide leadership for the future of the country.
Mrs. Merker's background coincides with the Council's view of what a business leader is: 'Experience and knowledge, together with a get-it-done attitude, that will lead the way as we deal with the critical issues that affect economic stimulus in the country...debt reduction, retirement/social security, tax reduction and simplification, and ending government waste and inefficiency.'
The National Republican Congressional Committee recognized Mrs. Merker along with the other State Chairmen with a full page ad in the Wall Street Journal.