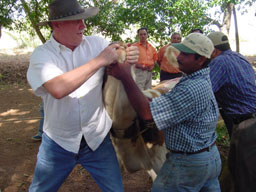 First RFID Bolus Used in Panama's Cattle Industry
The latest RFID technology presented at the Chan Mendez Ranch in Panama uses RFID bolus and buttons from AVID to track cattle from "field – to – fork" and provide precise data to ScoringSystem's worldwide, Web-based cattle traceback system.
On January 23, 2005, ScoringSystem was invited to the Chan Mendez Ranch in Panama for the first ever demonstration of their cattle traceback system using an RFID bolus for tracking cattle in that country's history. Representing ScoringSystem, Inc. were William Kanitz, company president, Luis Garcés, international sales manager, Lincoln Garcia, general director – Panama, and Eduardo Morzán, regional manager – Panama. Sponsored by Banco General, one of Panama's largest agricultural commercial banks, and Pfizer, the international pharmaceutical giant, and organized by Dr. Enrique Samudio of COPEG, Panama's veterinarian association, this second agricultural meeting featured Mr. Kanitz in a live demonstration of traceback using an RFID bolus, AVID electronic reading equipment, and ScoringSystem's traceback software.
Also during the meeting at the Chan Mendez Ranch, the ScoringSystem cattle traceback team had the opportunity to present the latest Web-based, wireless technology applied in a full traceback system for cattle throughout Panama. The presentation and discussion also involved a detailed review of numerous issues, including the eradication and prevention of cattle diseases, and how Panama's use of ScoringSystem.com cattle traceback system could contribute to the success of the country's cattle disease control and export meat programs.
In addition, use of RFID bolus and RFID buttons, and the tracking and traceability of the cattle in ScoringSystem.com's Web-based databank, could practically eliminate losses due to cattle theft throughout Panama's cattle industry, while providing traceability for their meat supply. During the demonstration, data recovery via the Web in real time was accomplished within 10 seconds, even in this remote backcountry area of Panama.
Veterinarians from COPEG, ranchers and cattle association officials, and high-profile members of the Panamanian agriculture ministry, and the wholesale / retail food industry were very enthusiastic about the possibilities and accuracy of using ScoringSystem.com for positive traceback throughout the country's cattle industry.
ScoringSystem.com and its cattle traceback system, featuring Site-Specific Recordkeeping™ and PIDC location code, are one of the many divisions of ScoringSystem, Inc., which is located in Sarasota, Florida USA and specializes in providing solutions with mobile data, via wireless PDAs, laptops, and Semacode-programmed Nokia mobile phones. Whether using an RFID code or barcodes for tracking and traceback of livestock or perishable commodities and other consumer goods, or storing performance data for sports players, www.ScoringSystem.com makes managing data easier, and does it in an extremely cost effective manner.